Here at Penny Plumbing we specialize in the no-dig technology of sewer relining, it is the fastest and most cost-effective way to repair a damaged drain or sewer. By installing a special lining which bonds to the pipe, the integrity of the drain or sewer is restored, with minimum disruption. We will be happy to handle your sewer relining job, call us today!
Do Your Sewer Pipes Need To Be Re-Lined?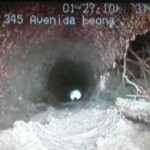 Are you experiencing frequent sewage backups? Do you have to repeatedly pay the drain rooter company to unclog your drains? If so, you most likely have tree roots growing in your sewer pipe that grow back after the rooter company leaves.
Are Your Vertical Rain Drains – Sewer Stacks Leaking?

After about 30 years vertical cast iron sewer pipes and rain drains in high rise condominiums will have rusted enough to get longitudinal cracks. The option of excavating the walls to replace these pipes is very inconvenient, messy, expensive and time consuming.
The only permanent way to solve the problem is to replace the broken or cracked sewer pipe, or to install a new physical inner pipe lining. No matter whether you have cast iron sewer pipes that are cracked or have missing pipe floors or clay sewer pipes with entire sections missing, sewer pipe lining is designed to form a new durable inner pipe.
INCREASED FLOW CAPACITY
Despite liners marginally reducing the cross sectional area of rehabilitated pipes, the smooth, seamless inner wall of the product typically improves flow capacity and the hydraulic characteristics of the pipe. There are no joints that can separate over time. The smooth interior also provides excellent abrasion resistance.
HOW IS THE LINER INSTALLED?
A resin impregnated felt tube is inverted or dragged into the damaged host pipe. A calibration tube is then usually used to inflate and compress the wet out liner to the host pipe to form a pipe within a pipe. The resin is cured by a chemical process, and heat. Once cured in place, the calibration tube is removed; and the drain is then formed and watertight.
BENEFITS OF DRAIN RELINING & REPAIRS
Quick Installation and minimal disruption
Forms a structural and durable new pipe within the old
Bridges and seals gaps, holes and cracks
Resistant to chemical attack or corrosion
Improves hydraulic efficiency
Substantial cost saving over conventional reconstruction methods
All processes are consistent with nationally recognized standards
CALL PENNY PLUMBING TODAY FOR ALL YOUR SEWER RELINING NEEDS!
909-730-7191