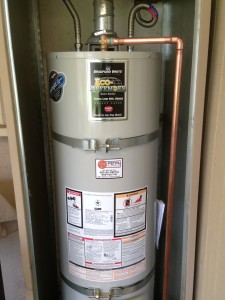 If you own a house chances are you own a hot water heater. You probably don't spend much time thinking about the water heater until one morning you go to take a shower and there's no hot water or you start to hear a very disturbing knocking noise coming from your water heater. Then you probably think about it a lot. As you can see there are many components that make up a water heater, whether it is gas or electric. Many of these parts need to be inspected or serviced annually. All of Penny Plumbing's service technicians are trained professionals in the world of hot water heating. Water heaters are changing all of the time so it is important to us that we stay up to date with any changes so that we can better serve you and your hot water heater needs. Whether you're looking for water heater installation, service or repair in La Verne, Brea, Corona, or any of the other surrounding cities, Penny Plumbing Heating & Air Conditioning is the only water heater experts you'll need!
Water Heater Service
The typical life span for a water heater is about 10 years. No matter what kind of water heater used, regular maintenance will increase its life span. The worst way to realize it's time to replace your water heater is when it needs to be replaced. By having your water heater inspected and serviced can prepare you for replacement, or even better, get more life out of your water heater.
Having your water heater inspected and serviced can also save you from possible water damage. Sometimes you may not see the tiny leak that has the potential to turn into a gusher, flooding the surrounding area with scalding hot water. A Penny Plumbing service technician has the trained eye to seek out these small leaks and the skill to stop or even prevent them.
Water Heater Installation
When you are looking for a new water heater for your home, Penny Plumbing can help you choose a new water heater that will meet your hot water needs. A Penny Plumbing service technician can come to your home and custom fit a water heater package for you and they will take your old water heater away for you.